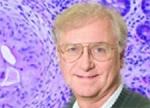 Congratulations to Dr. Dan Colley for being chosen as the recipient of the Distinguished Life Sciences Scientist Award sponsored by the Christopher Columbus Fellowship Foundation and the U.S Chamber of Commerce award. The Foundation is a Federal government agency established by Congress to "encourage and support research, study and labor designed to produce new discoveries in all fields of endeavor for the benefit of mankind." Colley's highly attained prestigious award is for his 40+ years research on the immunology of schistosomiasis. He will be honored and presented the Distinguished Life Sciences Award at the ceremony on July 19 at the U.S. Chamber of Commerce Headquarters in Washington, D.C.
    This impressive research award is yet another achievement to be added to Dr. Colley's extensive list of honors and awards. To highlight a few, in 2008, he received major funding, a $19 million award, from the Gates Foundation to research ways to reduce morbidity from schistosomiasis in low- and middle-income countries in Africa, the Middle East and the Americas. Dr. Colley not only excels as a major contributor to the science and practice of global health, but as a teacher and mentor in the classroom. Started in 1970, Colley's pioneering research studies were pivotal in establishing the field of immunoparasitology. His early studies were recognized with the Henry Baldwin Ward Medal (1981) and the Bailey K. Ashford Medal (1989). International recognition was confirmed when he was made Honorary Fellow of the Japanese Society of Parasitology (2003) and the Royal Society for Tropical Medicine and Hygiene (2007). Brazil acknowledged his research and training accomplishments with the Piraja da Silva Medal (2008), and its highest scientific honor, presented personally by the President of Brazil, the National Order of Scientific Merit of Brazil, Class "Gra-Cruz" (2005).
    Dr. Colley is currently Professor of Microbiology and the Director of the Center for Tropical and Emerging Diseases at UGA.