what do our microbiology alumni do?
Microbiology alumni have gone into a wide range of career fields since graduating from the University of Georgia. Take a look at the chart below: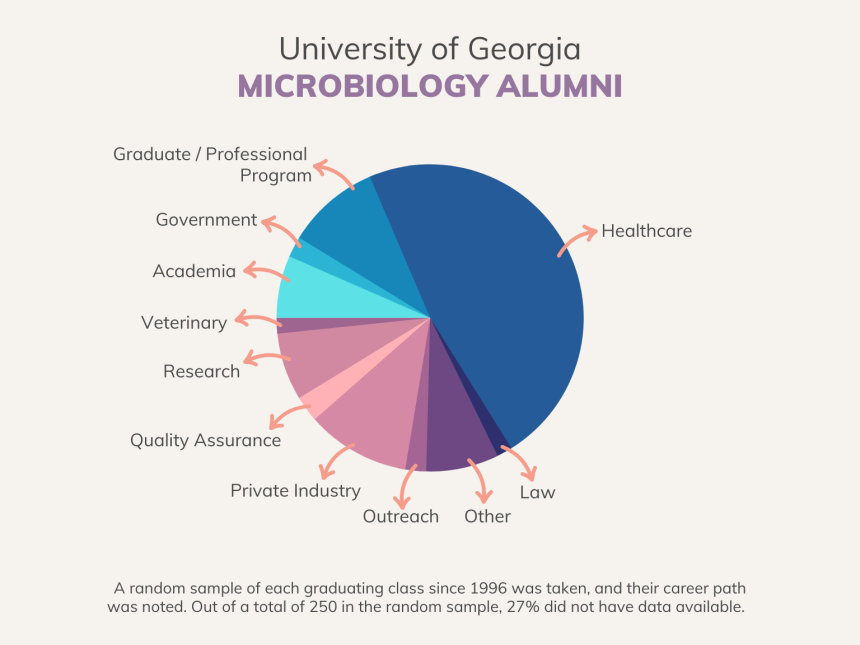 To list a few employers, Microbiology majors began careers with the Georgia Department of Public Health, Emory University, the Centers for Disease Control and Prevention, and Children's Healthcare of Atlanta. Charles River Laboratories, U.S. Fish and Wildlife Service, Revlon, and Colgate-Palmolive are just a few companies currently hiring Microbiologists. Check out Linkedin and Indeed to see other jobs currently available in the Microbiology field. 
Career Opportunities 
The career opportunities to choose from as a microbiologist will depend on the level of education and training you receive. A baccalaureate degree in microbiology will help you qualify for many technical, research, and clinical positions. Some of these positions include:
Research Assistant - Provide technical support with a team of scientists and a research director. May work in an industrial, government, university, or medical school lab.
Quality Assurance Technologists - Working in industry, hospitals, or the government; check for the quality and safety of vitamins, vaccines, antibiotics, and antiseptics. Also identify harmful microorganisms in water, food, dairy, pharmaceutical, and environmental products.
Sales / Technical Representative - Provide information about pharmaceutical, medical, or scientific products to prospective customers.
Clinical, Veterinary Microbiologists / Medical Technologists - Work in hospitals or veterinary clinics to identify disease-causing microorganisms in humans and animals.
In addition to laboratory and technical jobs, there are several other career paths available to holders of a Bachelor's degree in microbiology. Combining microbiology with another discipline like education, business, or journalism, provides an even wider range of career options such as teaching, scientific sales, science writing for the general public, public relations, or regulatory affairs. Completing a Bachelor's degree in microbiology also provides the necessary foundation to continue an education in the medical, veterinary, dental, or legal fields. 
Click through the slideshow below to see what electives are offered for specific career fields:
To broaden career choices, an advanced degree in Microbiology, such as a Master's degree, would qualify you for a career as a laboratory supervisor or an instructor at a community or junior college. A doctoral degree (or its equivalent) is almost always required for higher-level positions in microbiology and other sciences. With a Ph.D. in Microbiology, you could be qualified to perform independent research, teach undergraduate and graduate students, or assume executive-level responsibilities in government and industry.
Interested in an advanced degree? The diagram below was shared by one of our faculty to show the relation of advanced degrees to the salary and opportunities available at that level.