MISSION
Welcome to the UGA Student Chapter of the American Society for Microbiology web page. We are affiliated with the South East Branch of the national ASM organization. Our mission is to promote education, research, and the application of microbiology within Georgia. We work to achieve these goals through our monthly membership meetings, guest lectures, joint ventures with other scientific societies, research symposia, K-12 outreach activities, and, of course, social activities.
MEETINGS and EVENTS 
For more information about ASM's events, join ASM's Group Me or look out for event announcements via the listserv.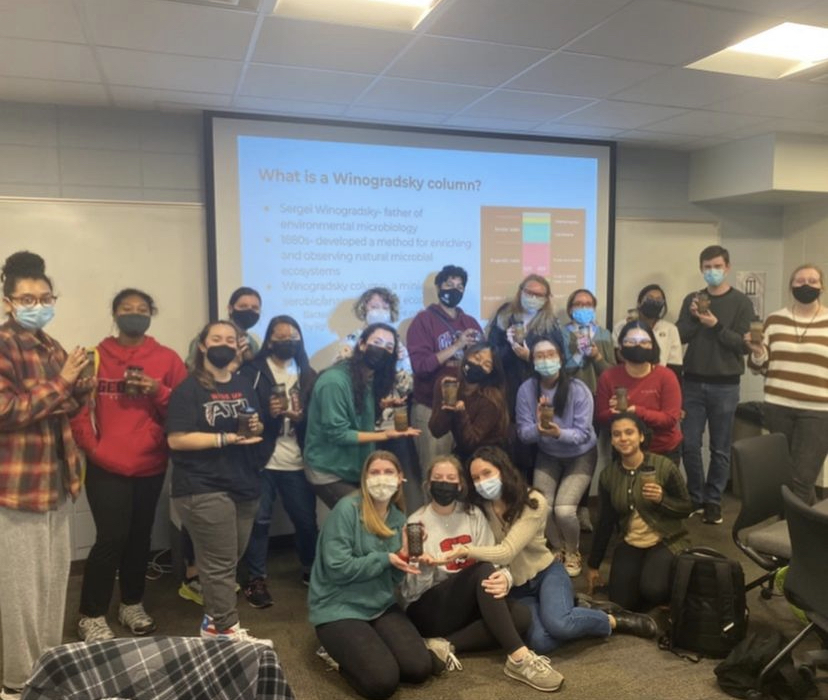 WHO WE ARE
Most members are microbiology majors, but there are also members majoring in biology, biochemistry, cell biology, and more. Many of our members are involved in research, and events hosted by ASM allow them to meet potential mentors and explore other areas of interest. Our chapter is dedicated to community involvement, and we have given presentations on different microbiology topics to elementary, middle, and high school students as part of their schools' STEM initiatives. We aim to help members with professional development by offering events such as resume/personal statement workshops, alumni panels, and guest speakers. We also aim to build community among microbiology students by hosting social events like semi-formals, cookie-decorating, and game nights. Our most anticipated event is Agar Art Night, modeled after the national ASM organization's contest. Students create art designs on agar plates with differently colored bacteria and the best design receives a prize. 
Introducing the UGA ASM Officers for 2022-2023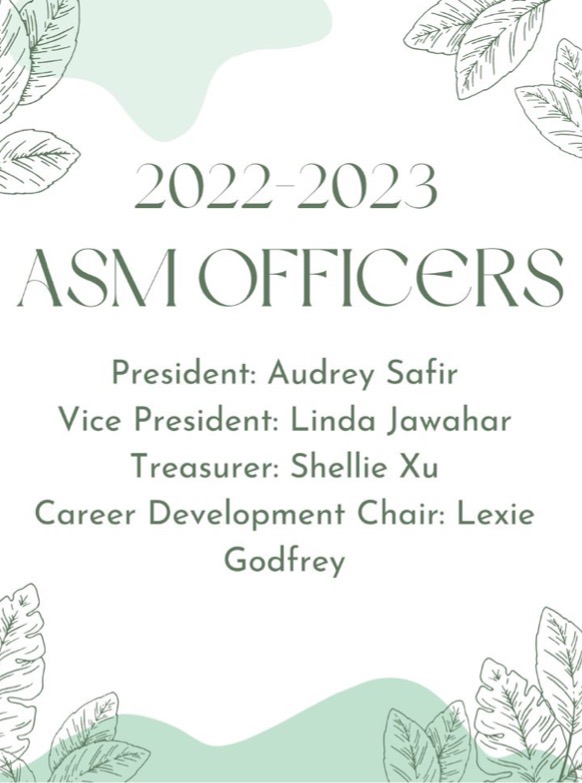 President Audrey Safir   
Majors: Microbiology, Anthropology
Career goals: My goal is to become a public health microbiologist for a global health organization like the CDC or WHO. 
Why ASM: I joined ASM my Freshman year to meet other Microbiology majors and learn about research and career opportunities in the field. 
Fun Fact: I was a dancer in The Three Stooges movie that came out in 2012!
Vice President Linda Jawahar  
Majors: Microbiology, Spanish
Career goals: My goal is to become a physician. 
Why ASM: I wanted to be a part of a community that held similar interests. 
Fun Fact: I speak three languages.
Treasurer Shellie Xu
Major: Microbiology
Career goals: My goal is to become a general dentist. 
Why ASM: I joined because there are many fun and interesting events to get involved in: making agar art, playing jeopardy, and building a Winogradsky column to name a few. I also like the educational and networking aspects of the org! 
Fun Fact: I've been to the smallest country in the world!
Career Development Chair Lexie Godfrey   
Majors: Biology, Biomedical Physiology
Career goals: My goal is to go attend Dental or Medical school!
Why ASM: I have an interest in microbiology and wanted to meet more students who have similar experiences and interests!
Fun Fact: I have two pet Sulcata tortoises at home!