Work in my lab focuses on flagellar biosynthesis in Helicobacter pylori, a bacterium that colonizes the human stomach where it can cause a variety of stomach diseases including chronic gastritis, peptic ulcer disease and gastric cancer. Flagellum-mediated motility is essential for H. pylori to colonize the gastric mucosa. Understanding flagellar biosynthesis in H. pylori may lead to new strategies for controlling infections of this significant human pathogen.  H. pylori cells typically possess two to six sheathed flagella at one cell pole.  Using H. pylori as a model, we study mechanisms that control transcription of the flagellar genes, localization of the flagella to the cell pole, and the number of flagella.  The membrane sheath that surrounds the H. pylori flagellum is contiguous with the outer membrane, and we study the biosynthesis of the flagellar sheath.
In a separate project, we study the role of a 5-methylcytosine (m5C) DNA methyltransferase (MTase) in H. pylori.  H. pylori genomes are remarkable for the large number of DNA MTases they possess.  Most H. pylori DNA MTases are part of restriction-modification systems, although some are 'orphans' that do not have associated restriction enzymes.  M.HpyAVIII is a 5-methylcytosine (m5C) MTase that recognizes the motif 5'-GCGC-3' and is an orphan MTase in most H. pylori strains.  Disrupting the gene encoding M.HpyAVIII in some H. pylori strains results in no distinctive phenotype, while in other strains loss of M.HpyAVIII severely impairs the growth rate.  Current work in the lab focuses on understanding the role of M.HpyAVIII in global gene expression in various H. pylori strains, as well as identifying alleles that are responsible for the slow growth of the M.HpyAVIII mutant strains.  The information generated in the proposed studies will allow us to develop rules to predict which 5mC sites impact transcription, which will have a broad impact on understanding the roles of m5C MTases in H. pylori and other bacteria.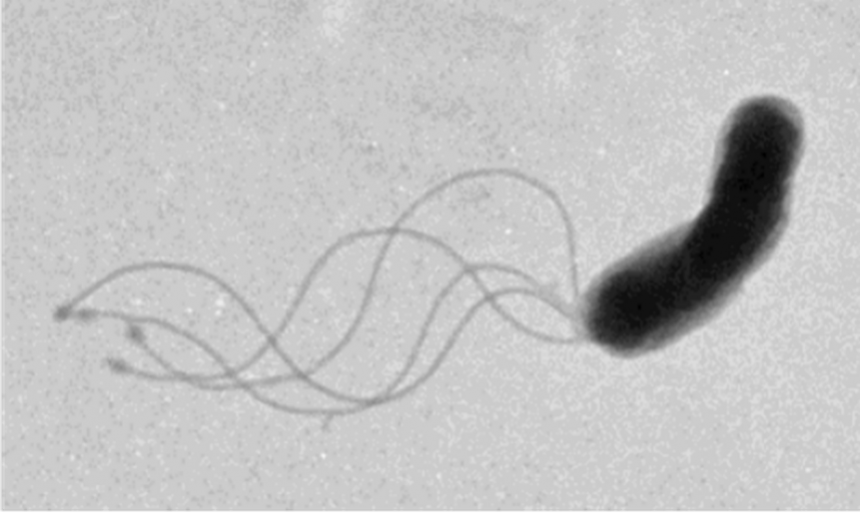 Figure 1. Transmission electron microscopy (TEM) image of a wild-type H. pylori cell. The cluster of flagella at one of the cell poles.  Image taken by Dr. Jennifer Tsang in the Hoover lab.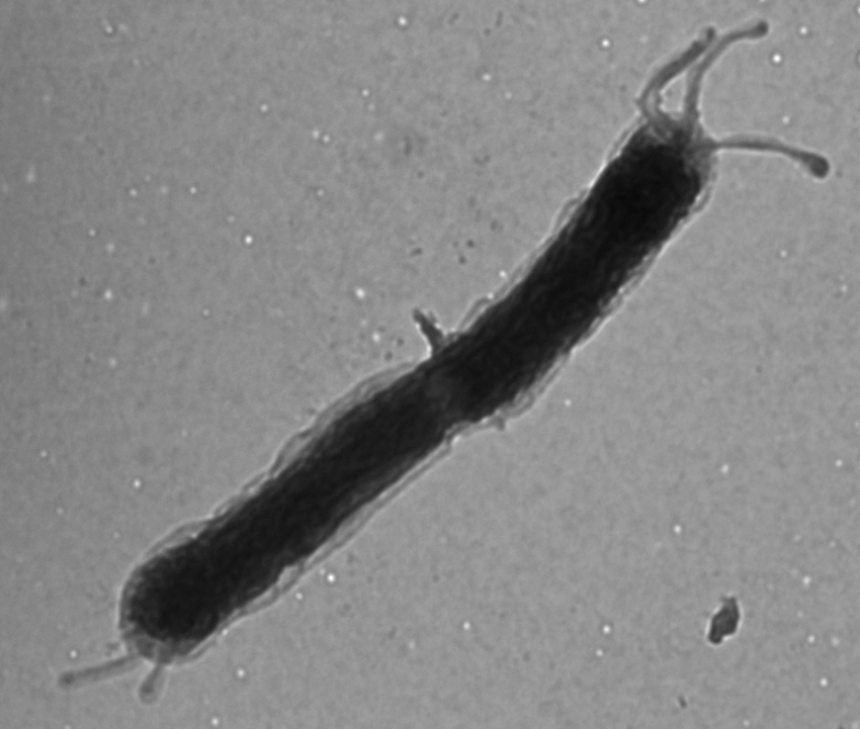 Figure 2. TEM image of a H. pylori fliA mutant.  FliA is an alternative sigma factor required for transcription of genes whose products are required late in flagellar assembly. The bacterium is undergoing cytokinesis and has truncated flagella the cell poles. Image taken by Dr. Jennifer Tsang in the Hoover lab.
Education:
Undergrad: B.A. in Biology, Susquehanna University
Graduate work: Ph.D. in Biochemistry, University of Wisconsin-Madison
Postdoctoral: Microbiology, University of California-Berkeley
Research